The most powerful thing about being in the wilderness is the idea that there is zero concern about your wellbeing. Whether you live or die or get eaten alive by a black bear the leaves still dance in the wind and the squirrels still jump from limb to limb.
In today's world we have become so accustomed to a world that is truly concerned about the condition of others. It's a beautiful thing but can often times leave us unprepared for the reality of our adventure
More people are hitting the woods now than ever before. There is a movement towards adventure and exploration.
My theory is that people are so inundated with the electronic world that nature is providing a decompression. Our minds are tangled in diodes and Ethernet cables but forests give us the chance to disconnect.
People get lost in the woods. People need shelter to survive in the unforgiving environment that is nature.
This article will offer up three very easy shelters to put together. These shelters are all made using tarps and emergency blankets. They will offer you solutions a survival situation where you will need shelter.
Emergency Blanket Shelter
All of these shelters will require paracord and some form of anchor i.e. rocks, bricks, stakes or something along those lines.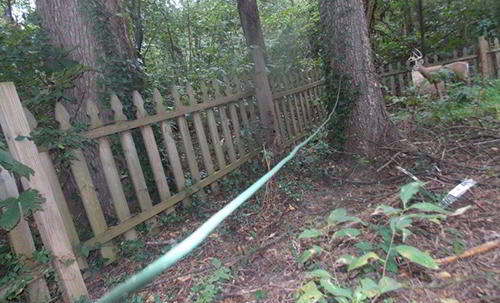 You will want to start this shelter with two good and sturdy trees. Check the area for any dead trees that could fall onto your shelter. That would mean certain death and we are talking about survival here, right? Tie a strong knot and assure that your line is taut between the two trees as this will hold up your emergency blanket.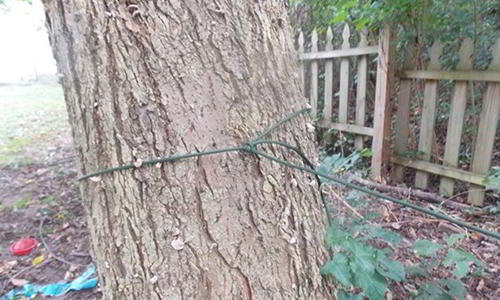 You will want your line to be about 2 feet off the ground which will allow you enough room to anchor the blanket to the floor of your location.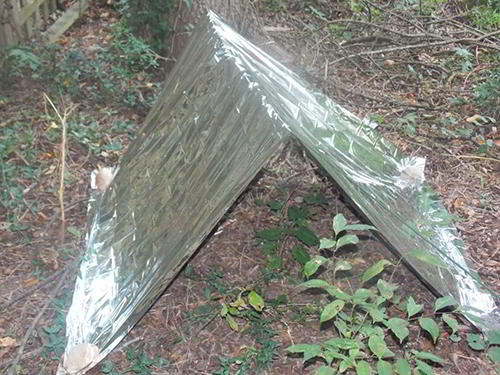 Once you have the line tied and taut unpack your emergency blanket. The desire will be to width wise over the cord as that will appear to provide you a larger shelter area. These emergency blankets are not big enough for this. You will want to fold it over the cord lengthwise and anchor it with some sort of weight or stakes. I prefer weight for these thin blankets because they tear easily and that creates issues with stakes.
If you have two emergency blankets you will have a very comfortable shelter. Using just one is very minimalist but this will keep you dry and conserve heat which is the point of all shelters. That said this shelter will not hold up to high winds. The material is simply not durable enough. It is also a great shelter for storing clothes, food or other things you want to stay dry as well.
Poncho Shelter
The poncho shelter is part of standard operating procedure in the military. This is a step up from the previously discuss shelter. For many of us when we travel we do so with a poncho or two in the car or in the bag. This shelter will also require some paracord and anchors as well. The material is much stronger and will stand up better to the elements.
Begin by using the same setup as mentioned above. We want two sturdy trees and a safe area to overnight. When you setup your paracord this time, however, make sure instead of a taut line that runs parallel with the ground you want the line to be tied and slope down slightly. I have also seen these shelters built with sticks using an A frame design. Since we are talking quick and shelters I would rather use the paracord method.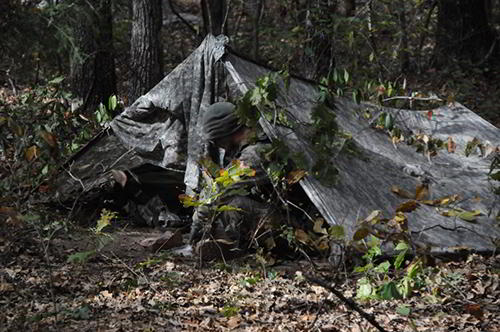 Once you drape the poncho over your line your will need to anchor the four corners of your shelter. For the wider front opening of this shelter you will want stakes or sticks sharpened down to be such. The front of this shelter will want to slide down as it will be sloped. Your stakes will keep that from happening. The back of the tent could also be staked or anchor weighted.
This shelter is time tested. It's in the manuals of our military and has proven itself to be the most powerful quick shelter you can make from a poncho. You can store your belongings and yourself inside one of these and be comfortable. Of course my advice is the same as above. Carry two ponchos and you will have even more to work with.
The "JW" Tree Trunk Shelter
This is my answer to a quick shelter using a tarp. I wanted to offer something very easy here that could be used as shelter and as concealment. It will require a large tarp without holes. The best tarp would be colored brown or camo. I used this blue tarp because it was a good size and at arm length. It also helps you to differentiate from where the tree end and tarp begins very easily.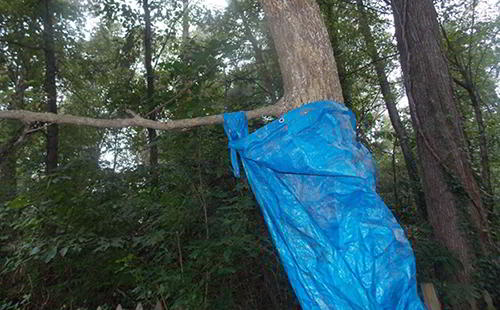 You need to find a tree with a low hanging branch like the one you see here.
Wrap the tarp around the tree and tight a tight knot in both ends that meet at the branch. This branch will keep the tarp up and basically hold the shelter up. If you find the right tree this will be an easy step.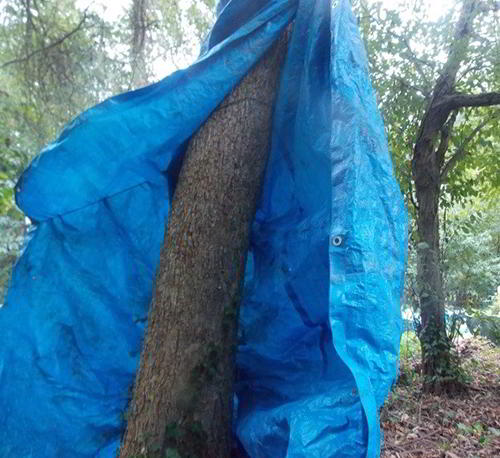 The tree will essentially work as a tent pole in the center of your shelter. Depending on the size of your tarp this could be a very comfortable shelter. You will want to inspect the base of your tree for things like ant nests. It would be terrible to setup your shelter only to find out through the night that you are covered in carpenter ants.
Wrap your tarp around to meet the other side. The holes in the tarp can be sewn together by using a piece of paracord. I will sew them around the top and leave the bottom open. Then shape the bottom of your tarp to resemble the root system of a tree.Make sure the shelter tapers out the way a tree's base would in nature. Once you have achieved the perfect shape anchor the bottom of your shelter in several places.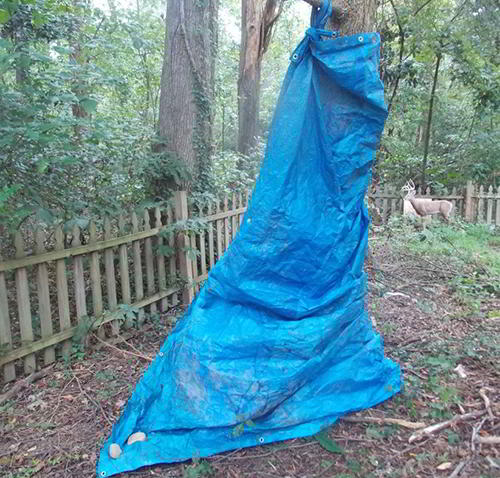 Now imagine this image with a brown or camo tarp. In the dark of night you could walk right by this thing and not even realize it was a shelter.
My intent was to create a shelter that would blend in with nature. This shelter does just that and with the proper use of color would be nearly indistinguishable at a distance even in daylight.
MOD: You will want to wrap a few lengths of paracord around the top of the shelter just below where the knot is tied. This will keep the rain out. Otherwise it will let moisture in.
Fire, Water, and Shelter are the basics of survival and I hope you give some of these quick shelters a go on your next trip out into the wilderness. Like I said they may not be a Coleman but if you find yourself in a pinch these shelters will greatly increase the likelihood of your survival and hopefully provide you with a decent night's sleep.