So you've taken all the precautions you can think of against intruders. You've cleared away cover around your home, fitted quality door and window locks and made sure your tools are securely locked away.
But apparently it wasn't enough, because it's 3am and you've just been woken by a noise downstairs. What are you going to do now?
The "right" answer, of course, is to call the cops and let them deal with it. If there's violence and you didn't call the cops, questions are going to be asked about that, so call them as soon as you can. You might not be able to call them right away, though.
For example, just talking on the phone might tell intruders where you are. You might not need to speak – dialing 911 and leaving the connection open will probably get the police to your door eventually – but if you want a proper response you're going to have to tell them something.
Then you need to consider if you can wait for the cops to turn up and deal with the situation. What if your kids are asleep in another room? Do you really want to leave them there unprotected, with possible criminals roaming around, while you wait? Of course not – and that means you need to get out there and clear the house yourself.
Here's another scenario where you may have to clear your house: you come back home and see evidence of possible intruders. Maybe a door or window has been forced; maybe an alarm's going, or there's a light on in a room that was dark when you left.
For whatever reason, you suspect someone may be in your home. Again, calling the cops is a smart response – if none of your family are at home, just stay outside and wait for the police. But if your loved ones are possibly inside and in danger, you might need to react.
Of course, in a SHTF scenario you probably won't be able to get police help anyway. If their organization hasn't fallen apart they'll all be busy with other things; either way, you're on your own. If your home's security is compromised you're going to have to clear it yourself.
House clearing is a skill that pretty much every veteran learned during their service, but the military way of doing it is a lot different from what you're going to have to do. For a start you're not going to be part of a fire team, with mutual support from other fire teams and crew-served weapons. To clear your property of intruders you need some new skills that are pretty different from the military way.
Clearing Your Home Alone
The biggest challenge in clearing your home is that you're probably going to be doing it on your own. That can be harder or easier depending on how large your home is and how it's laid out. Working alone, it's very hard to guarantee total thoroughness – but you need to do the best job you can, or your efforts won't achieve anything.
Clearing a house is all about making a potentially dangerous area secure. The key principle is that once you've cleared an area it needs to stay cleared; if bad guys can get back into it once you've moved on, either you're going to get jumped from behind or they'll be able to continue endangering you, your family and your property.
Have A Plan
The key to successful clearance is to be methodical. If you just rush round checking rooms at random you might miss places; you'll probably clear others then leave them unwatched. If that's happening you might as well not bother. Instead, have a plan of the order you plan to clear rooms and other spaces.
The obvious place to start is upstairs. If you have an attic, secure the hatch with a bolt and don't leave ladders in place. That way you can quickly confirm visually that the attic is secure without having to go up there and leave the top floor undefended. Then, starting at your bedroom, check the high-priority rooms first (occupied bedrooms, for example) and work your way round.
Your aim is that once a room has been cleared, you should make sure you're able to cover access to it at all times. If you have someone that can help you – even if just by shouting a warning – get them to watch the top of the stairs so you'll know if any intruders come up them.
Once you've cleared each room, lock it if you can. Even a simple bolt or hook and eye on the outside works. Intruders can easily open it and get in, but they won't be able to engage the bolt from inside, so you can easily see if a room has been reopened since you checked it. If it's at night, turn lights on as you go to make it harder to hide.
When the top floor is done, move down a level and repeat the process, working out from the base of the stairs to make sure nobody takes the chance to sneak back up them. Clearing the house in this order also makes it easy for intruders who hear you searching to get out.
If you can persuade them to leave without a confrontation that's safer for you and your family. On the ground floor, make sure that any exterior doors and windows are secure as you clear.
Eventually, you should have covered the entire house. If there are any intruders they'll either have escaped or you'll have found them. A methodical search plan – rehearse it in advance – gives you the best odds of a thorough clearance.
As you clear each room use the same methodical methods. As you enter, give the room a quick sweep for any obvious threats. Then mentally divide it into sectors – the "slice of pie" method – and scan each one in turn.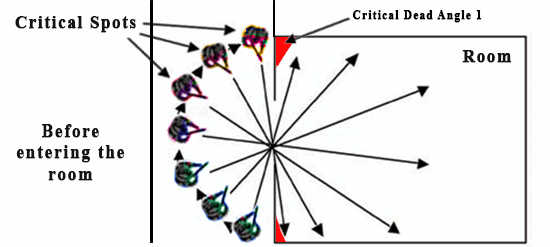 If a sector has large furniture look in and around it as you search. The barrel of your weapon should always track with your gaze, so if you do see a threat you can react immediately. If you're using a flashlight that should track with the weapon as well.
Let's look at how this works in practice. Say you've just woken up and you suspect there's an intruder in your home. The first thing you need to do is secure your immediate area – the bedroom. That deals with the immediate threat, and gives you a safe place to plan the rest of the clearance.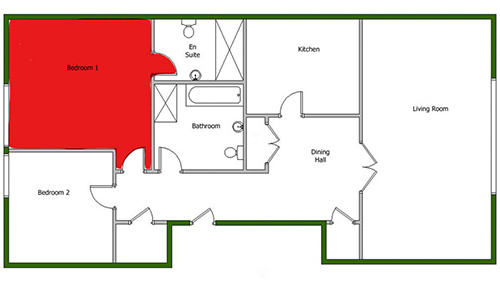 Next, move out and clear the neighboring rooms. In the example that means the next bedroom, and then the bathroom.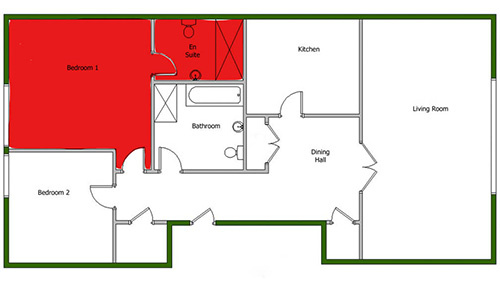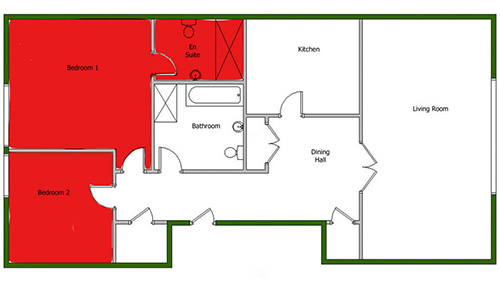 That leaves you with a secure, cleared area at one end of the property, and if you know the cops are on the way you can leave it at that – by covering the hallway you can secure yourself and your family.
If you need to clear the rest, though, it starts to get difficult – it's hard to avoid leaving uncleared areas behind you for a while.Start by clearing the remaining rooms.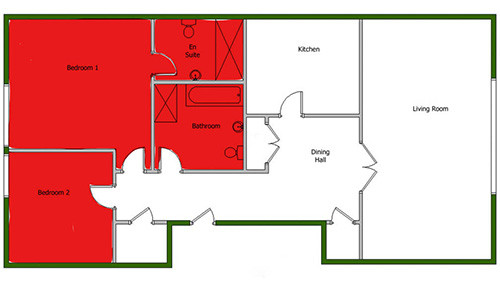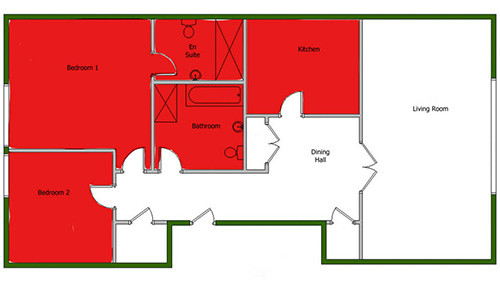 With that done, finish up by checking the closets in the hallway just in case anyone's hiding in them. With that done, your home should be cleared.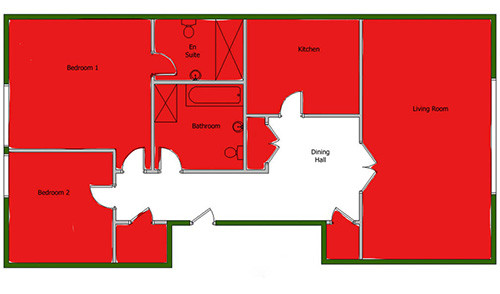 As you can see, the problem is that while you're clearing the kitchen and living room any intruders are free to move around the hall. One solution is to have someone cover the hallway.
Bolts or locks on each door will also solve the problem and make sure cleared areas stay cleared.
Moving Tactically
To stay as safe as possible as you clear, it's important to move in a way that minimizes your target profile. Try not to silhouette yourself against lights, and avoid framing yourself – putting yourself in the center of a door or passage makes you more visible and easier to aim at, so stay off to one side where you can.
When going through a door stay to one side. Don't hug walls too close either, though – if it comes to shooting, stray bullets that hit a wall a glancing blow can ride along it for a good distance.
Don't move into spaces where there's an uncleared area behind you. When you clear a room get out of the doorway as fast as possible, and either get your back to the wall or into a corner you can see is clear. That way you can scan the room without worrying what's behind you.
Be aware that when you scan a room from outside the door, even if you're close to the door there will be significant blind spots to either side of it.
Clearing a house on your own is a tough job – but it's not impossible, if you think it through and do it in an organized way. Take some time now to work out what sequence you'd clear your home in if you suspected an intruder; a few minutes of planning could make all the difference when it counts.