Like many of you, I got into this EDC obsessed lifestyle as a kid. I have always had an affinity for tools that serve a singular purpose, but have almost perverse levels of technology thrown into them. A knife is just a sharpened piece of steel, but you can take a relatively simple formula and distill it into a very complex, purpose designed tool like the Benchmade Osborne 940.
This obsession with performance has led me to accumulate a simply monolithic amount of sharp toys, and in many ways I would say that in the past I crossed the line from tool user to tool collector.
That said, after so many years in this world and after over 7 years of marriage, experiencing mortgage payments and shifts in lifestyle, I have begun to think far more about the purpose behind the tools I wield and what I want my collection to represent.
The bias I have towards quality and having an established "tool set" has led me to truly appreciate the "buy it once" movement: the idea that we can purchase a single tool to fulfill a singular function over the span of a lifetime. Naturally, I will never be happy with just one knife or one watch, but I have definitely taken some of the lessons this movement has to offer on board.
And with that preamble out of the way, here are some of my lifetime tools that I think some of you may find interesting. Perhaps browsing through them will spark some conversation about our spending habits down in the comments! 
My Lifetime EDCs
1. My lifetime watch
Seiko SARB 033
Is there a more versatile watch for the everyday man who wants something a bit more special than a Seiko 5, but doesn't want to drop the big bucks on a Rolex Explorer? I don't think so. The SARB is a true classic (and sadly, discontinued now so if you want one- get on it pronto) with a fantastic, durable movement and a sense of style and presence on the wrists that puts many luxury watches to shame.
I love horology, but I would be happy('ish) with only this timepiece for the rest of time. As a matter of fact, I can't imagine a single change with this watch that would it make it better, which sums up my impressions on this timeless classic.
2. My lifetime folding knife
Spyderco Military
This was a tough one. I admittedly almost strayed away from Spyderco with my choice (very unlike me, I know) due to my affection for the Benchmade 940, but ultimately, the Spyderco Military is and always will be my first choice for a single folding knife. I love a well made liner lock, the blade shape is 10/10, and the feel in the hand is sublime. I don't like the price relative to materials, but ultimately, I do think it's worth it.
A tip of my hat goes to the Buck 110 due to my love for it, but I do think a lot of my appreciation for this folder is down to nostalgia and it being my first introduction to high quality knives.
Availability: Amazon • Blade HQ • eBay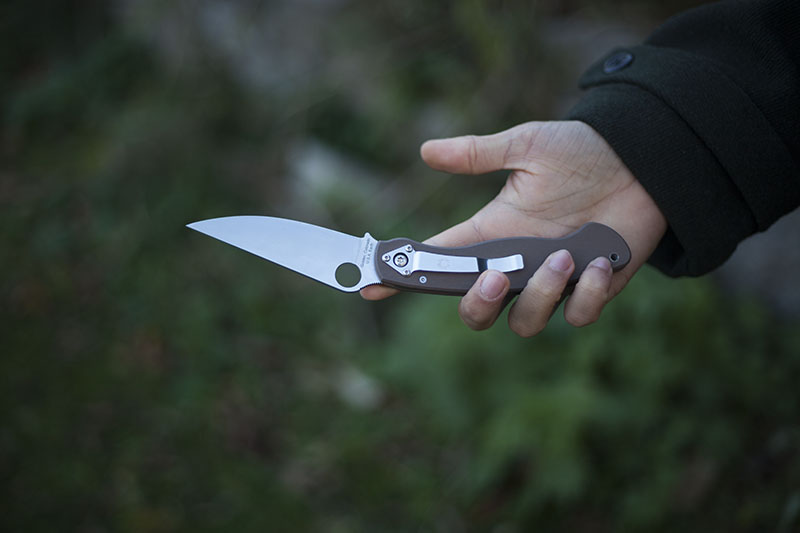 Spyderco Military Folding Knife – Amazon / Blade HQ
3. My lifetime fixed blade
Fallkniven F1
This was a no brainer. Yes, I do love my Moras, and my Tops Litetrekker is a smashing little tyke, but the Fallkniven F1 is enduring in its versatility and popularity. There is something to be said for a tool that stays on the hype train for so many years.
Yes, boring steel (Laminated VG-10) and spartan design with true-blue utilitarian materials used, but at the end of the day, I trust this blade regardless of enviroment or situation. It's a rock solid, lifetime tool despite being a smidgen on the boring side.
Availability: Amazon • Blade HQ • eBay
4. My lifetime boots
Doc Martens
I love the comfort of my modern hiking boots, but ultimately, this pervasive habit of gluing the soles to the uppers of the boot rules out 99% of them from my lifetime list. I had to give my nod to my Doc Martens, which have been with me for around 17 years and are still going strong.
If I had the money I may recommend Danner's light mountain boots, but I don't own them (yet) so can't say for certain if they'd live up to the hype. That said, I have a feeling they will.
5. My lifetime bag
You all know I love my Hazard 4 gear, and whilst some may think that perhaps a Saddleback leather backpack is more suitable as a choice for a lifetime tool, I would argue that in this case, the comfort of modern synthetic materials and know-how outweigh the advantages of leather.
The Grayman Patrol is straight up bombproof and I feel comfortable wearing it everywhere, unlike the uber-tactical camo alternatives. It's a great option and well worth the investment. Your back will thank you, even if your wallet doesn't!
Hazard 4 Grayman Patrol Backpack
6. My lifetime Cookware
Le Creuset Cookware
We all know Le Creuset. This ironware is built to withstand well, everything.
Rock solid and versatile. Yes, it's pricey, but you won't need to replace it. I love my Instant Pot, but I wager that my Le Creuset will outlive me. There is something weirdly nostalgic about having a tool that hasn't changed in decades, because frankly, there is nothing about it that needs changing.
7. My Lifetime Pipe
Kraig Seder Short Poker Pipe
Owned it for years. Made by the man himself and an example of a piece of art that is perfectly functional. We live in an age where everything is built to be used and thrown away. It's comforting to own something that is designed with the exact opposite in mind.
The older I get, the more I think about the items I own and use instead of simply rushing to buy the next new thing. I admittedly do partake within the norms of a consumerist society, but I like to think that I have pulled the breaks to a certain degree. I now give far more consideration towards the things that truly matter, and not what the deluge of advertising is telling me to get next.
---
Other self-sufficiency and preparedness solutions recommended for you:
The Lost Ways (The vital self-sufficiency lessons our great grand-fathers left us)
Survival MD (Knowledge to survive any medical crisis situation)
Backyard Liberty (Liberal's hidden agenda: more than just your guns…)
Alive After the Fall (Build yourself the only unlimited water source you'll ever need)
The Lost ways II (4 Important Forgotten Skills used by our Ancestors that can help you in any crisis)
The Patriot Privacy Kit (Secure your privacy in just 10 simple steps)
Like many of you, I got into this EDC obsessed lifestyle as a kid. I have always had an affinity for tools that serve a singular purpose, but have almost