Most people see a dandelion growing and immediately reach for the weed killer, but I am hoping to change a few minds on the usefulness of this "weed". Dandelions are useful as an herbal remedy, detoxifier, and food source. The are full of vitamins, minerals, and healthy antioxidants.
Medicinal Use of Dandelion Roots
People have been using dandelion root as a detoxifier for the liver for many years, but recent research shows that it may have many more uses. Research published in the International Journal of Molecular Sciences shows that dandelion root is helpful in regulating blood sugar and insulin levels in diabetics. It works by controlling fats in the blood. Additional research at the University of Windsor found that it is useful in fighting a chemo-resistant melanoma and preventing the cancer cells from multiplying.
It has also been shown to calm inflammation, prevent urinary tract infections, reduce stomach upsets, and treat joint pain from arthritis and similar problems. Herbalists use it to treat infections, ease aching muscles, flush excess fluids from the body and as a detoxifier for the liver and gallbladder. With all of these medical benefits going for it, it seems such a waste to spray it with weed killer, doesn't it? Instead, lets dig it up and make some use from the plant.
Related: Healthy Soil + Healthy Plants = Healthy You
Harvesting Dandelion Roots
Look for a clean source of dandelions such as a meadow or field away from traffic and human pesticide and herbicide use. Contaminated plants are not good for you or the environment. Let the plant grow through the summer and produce seeds for the next year. Harvest the roots in the fall after the weather has turned cooler. At this time, the insoluble fiber levels (inulin) are highest and the plant has the highest medicinal value.
You can also harvest in the early spring while the plant is still dormant. Spring roots are sweeter, less bitter, and easier to chew, if you harvest them before they bloom. Spring roots are useful for digestive ailments and stimulate more bile production.
Ideally, you want to dig up the dandelion root whole with as little breakage as possible. The plant has a central tap root which has all the medicinal properties of the plant.
Dig deep with a dandelion digger, trowel, or garden fork. Loosen the soil around the plant and pull it up from the base.
Wash the roots well to remove all dirt and slice them into pieces strips or slices for drying. Thin slices dry faster. I dry my dandelion roots on a dehydrator set to 95 F until they are completely dry and brittle.
Snap a few pieces in half and make sure they are dry all the way through. Alternately, dry them in a warm (but not hot) oven.
Store the dried roots in a cool, dry place for up to a year.
Related: The Plant You Can Use as a Diuretic But Also To Make a Great Wine!
Using Dandelion Root
For most medicinal uses, a decoction, infusion, or tincture is made to extract the medicinal compounds from the tough root. Go slowly when you first start using dandelion root, it is a diuretic. Start with one cup of dandelion root decoction daily, increasing it slowly if desired. Here are some general recipes to get you started:
Dandelion Root Decoction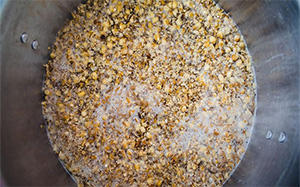 A decoction is an infusion made with water. It may be consumed as a tea but is often made stronger. To make a dandelion root decoction:
1 ounce dried dandelion root or 2 ounces fresh root, chopped

1 pint filtered or spring water
Place the chopped root pieces in a small pot with one pint of water. Bring it to a boil, reduce the heat to a simmer and cover the pot. Allow the decoction to simmer for 20 minutes. Strain the tea and enjoy.
Related: The type of salt that can be used for Sprains, Muscle Pain, Muscle Spasm, Constipation, Cardiac Conditions, and even as a Sedative
Dandelion Root Tincture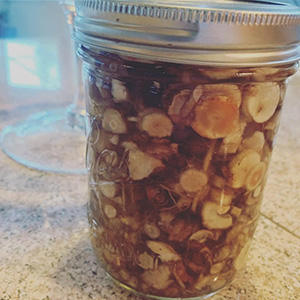 Because it is an alcohol extract, Dandelion Root Tincture retains some different extracts than the decoction. It can also be made ahead and stored for long periods so that it is always available. It is valuable for people who do not like the tea, since less is needed for the same effects
1 pint jar of dandelion root, chopped

1 pint of 80 proof or stronger vodka.
Fill the jar 3/4 full with dandelion root pieces and fill the jar with 80 proof vodka. Cover the jar with a tight fitting lid. Shake and tap the jar, removing all air bubbles. Steep the root for 4 to 6 weeks, shaking it daily. Keep the jar in a cool, dark place while steeping. After 4 to 6 weeks, strain out the root material and put the tincture in a dark glass bottle. Keep the tincture in a cool, dark place, tightly covered for 1 to 3 years. Use 10 to 15 drops of tincture daily, as needed.
Dandelion Flower Tea
Place 1/2 ounce of dried dandelion flower petals or 1 ounces of fresh petals in a tea ball and place in a cup of boiling water. Steep and enjoy warm or cold. Use Dandelion Flower Tea for weight loss, as a diuretic, a detox, or as a healthy beverage.
Dandelion Root Coffee
Dandelion Root Coffee is made with roasted dandelion roots that are ground like coffee and brewed. It is enjoyed like coffee and makes a good coffee substitute. Here is the recipe:
Chop dried dandelion roots into small pieces and spread onto a roasting pan or cookie sheet.
Roast the dried root in a 200 F oven for approximately 4 hours, stirring and turning occasionally. The roots should be completely browned.
Cool the roasted roots and grind them in a coffee grinder. Brew like coffee, or steep 1 teaspoon of ground in a cup of boiling water for 10 minutes. Strain and enjoy.
Store the roasted roots in an airtight container and grind fresh for best flavor.
Precautions
The dandelion plant is edible and considered safe for most people. Some people may be allergic to dandelion and should not use it. It can also interact with some medications, including diuretics, lithium, and Cipro. It is always best to consult your doctor before using any herbal product if you are taking prescription medications or have a health condition.
---
Other self-sufficiency and preparedness solutions recommended for you:
Healthy Soil + Healthy Plants = Healthy You
The vital self-sufficiency lessons our great grand-fathers left us
Knowledge to survive any medical crisis situation
Liberal's hidden agenda: more than just your guns
Build yourself the only unlimited water source you'll ever need
4 Important Forgotten Skills used by our Ancestors that can help you in any crisis